SeventySeven Guitars
---
---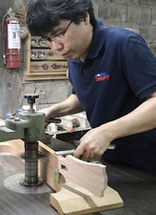 Takaesu Masayuki, one of the best guitar builder at the factory of Headway, had a dream to create a series of semi-acoustic guitars that inherited the superb resonance of Headway acoustic guitars. 
In 2006 he eventually crafted the first semi acoustic guitars with the brand name "SeventySeven". 
He designed an original semi hollow body in which the whole cavity was made as large as possible while the core part of the center block remained. 
The body produces the ideal tonal balance between rich acoustic reverberation and the solid attack required for an electric guitar. 
The first production of SeventySeven guitars received favorable reviews both in Japan and all over the world. 
This established SeventySeven guitars and the brand was continued and expanded to respond to the great demand arising in the market place. 
Since then Seventy Seven guitars have been loved by many guitarists worldwide who seek genuine quality. 
---