SeventySeven Guitars
Japanese Engneered Series
---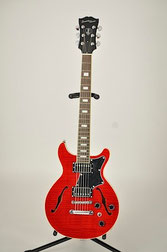 Mugen Tone Works provide SeventySeven`s "Japanese Engneered Series" to the musicians in Thai with reasonable price.
To continue providing quality instruments at reasonable prices, SeventySeven`s new factory was established in Philippine in 2007. In order to maintain Headway`s philosophy of high quality guitar manufacturing, no compromises were made. 
All the woodwork is done by hand, not computer programmed NC routers. That is because only hands of experienced luthiers can craft the correct shape of guitar components. Another essential component is the selection of materials. Basic materials such as tonewood, truss rods, frets and coating materials are the same ones used on our high end products made at Japanese factories.
---